It is FINALLY time for me to go back to sunny Southern California for vacation! It seems like winter lasted an eternity, and summer hasn't even gotten to New York City yet. So I guess I will have to go to summer. I am a notorious overpacker, but I have a really short connection and don't want my baggage lost for the one zillionth time so I've decided to only do carry on. This means very careful choices, and versatile pieces!
I am not wearing shoes in a couple of these because I probably won't wear them most of the time I am home. I will be hanging out on the wooden porch of our hundred year old beach house, laying on the warm sand, and walking barefoot in the grass in the backyard. At least that's what I've been dreaming of. Living in this cement jungle has given me a serious case of nature deficiency syndrome. However, I will have to wear shoes to run around Melrose and snatch all the good vintage away. That's what those comfy brown platforms are for!
I wish you could see better just how amazing those shorts in the first picture are. They are dark navy blue with little gold anchor buttons, pleats, and cuffs! Totally, completely perfect. This is definitely my 4th of July outfit. You also can't see the perfect 1940's navy pin that's on my top. Stupid ISO speed indoors...
The second one is the most comfortable thing ever. The top is a wonderfully soft lilac organic cotton from H&M. The pants are a luxurious 100% silk in army green with a fauz drawstring waist and elastic at the calves.
The third outfit is a denim chambray romper from my favorite store in Williamsburg,
Mini Mini Market
. You should go there, but only if you are willing to part with your whole savings account!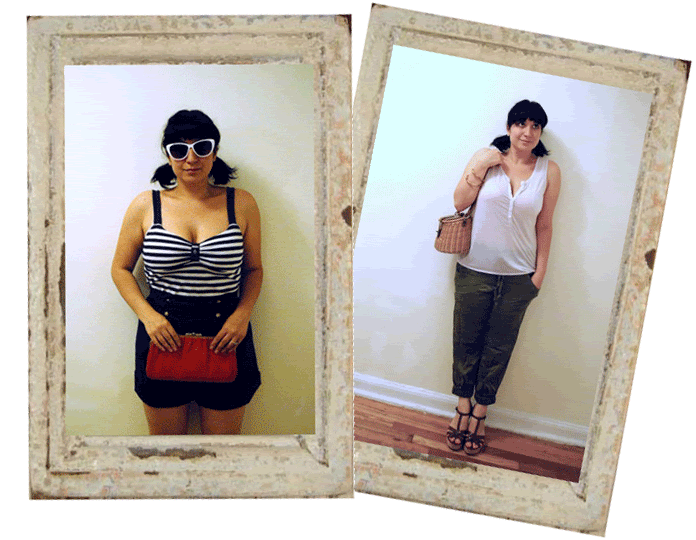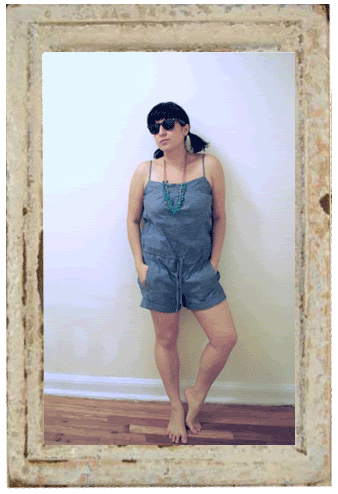 Top Left
Glasses: Forever 21
Striped top: American Eagle, ages ago
Anchor pin: 1940's vintage
Cuffed shorts: Thrifted
Red Clutch: 50's Vintage

Top Right
Organic Cotton Tee: H&M
Silk capris: Anthropologie
Brown Wedges: Steve Madden
Wicker purse: Vintage from an estate sale
Bamboo bracelets: Vintage

Bottom
Chambray romper: Mini Mini Market
Necklace: Old Navy, ages ago
Sunglasses: Vintage Rayban Wayfarers, thrifted