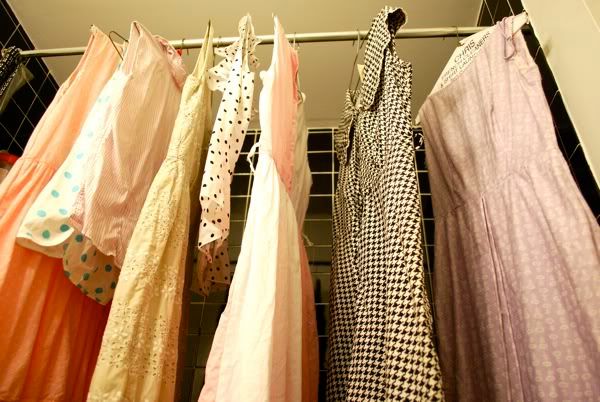 ☀As a teenager, I wanted to be a fashion designer when I grew up and create a line of vintage reproductions. When I got to college, I changed my mind and became an art history major with the intent of becoming a restoration artist. Now that I am all grown up, I find that my job has oddly become a combination of both these two fields of study.
Those of us that handle vintage for a living will understand what I mean. Finding perfect, unused and powder fresh vintage is not impossible and is a real treat when it happens. However, most of it needs laundering, mending, stain removal- sometimes it just needs to be shocked back to life!
This post is a hard earned lesson full of trial, error, and tears. It's part one of a series on restoration techniques that I am slowly learning to master. Today, I will teach you how to handle and unleash a secret weapon that if used correctly has magical powers. If used incorrectly, it can cause complete and total devastation. It is called Oxy Clean.
Oxy Clean comes in many forms, but I always buy the scent and irritant free powdered form in a big huge bucket. In my experience, it's the only one that works. So go buy some. Ok, now that you have it, here are the rules:
------FABRICS--------

Oxy Clean works amazing on natural fibers like cotton and linen, and cotton poly blends.
However,
☠☠NEVER☠☠ use it on silk, wool, rayon, nylon, polyester, acetate, or viscose. It will either not work at all or completely melt and shred your garment to oblivion. Honestly, I pretty much only use it on cotton to be safe.
Bright colors, especially solids in cotton almost always bleed or run. Vintage dyes were not often colorfast they way they are now, and Oxy Clean tends to exacerbate the problem. Bleeding can be minimized by soaking your load in cold water, and adding a cup or two of distilled white vinegar to your load. Always soak bright colors and prints by themselves or with similar colors.
☠ Watch out for collars, trim, and details on cotton garments in contrasting colors. Example: navy blue dress with a white collar (I just ruined one this week). This type of garment is usually NOT a good candidate for a soak. ☠
------HOW TO USE IT---------

Dissolve your Oxy Clean and vinegar in a little bit of tepid water. Fill up the remainder of your basin or washing machine with cold water. I generally use one giant scoop that comes with the container per two gallons of water. I soak garments in my machine; usually I fill it for a medium load and add 5 or 6 scoops, which will clean about 6 garments. The higher the ratio of Oxy to water, the stronger the potion!
Add your garments in and gently swish them around, making sure they are completely submerged. Every four hours or so, give them a gentle swish. Usually 24 hours of soaking does the trick quite well.
Once the soaking is done, thoroughly wash out your garments by hand in cold water, or run them through the gentle cycle if they aren't fragile. I prefer washing by hand to be safe. Oxy Clean takes a good deal more washing out than a normal detergent, so have patience!
Drip dry garments from a hanger. You can roll them up in a towel to get excess water out, but never ever wring your vintage! If the garment is fragile and becomes heavy with water weight, just lay it flat on a towel to dry as hanging it might cause the shoulders to shred.
----FINALLY, BEHOLD THE MAGICAL POWERS OF OXY CLEAN------
♡♡♡All of the bright pretty cotton you see hanging above was formerly a faded, yellowed, yucky mess. With some patience and Oxy Clean, they are now all perfect, bright as the sun and ready to be worn. ♡♡♡