Saturday turned out to be a great day. My friend and I got up super early and made the two hour trek out to Hempstead, New York to go an estate sale that promised vintage clothes. I didn't know what to expect because it was a new company running the sale, and there were two pictures of small closets filled with clothes on the listing. We waited in the blistering sun and suffered burns and nearly hear stroke while in line, but wow was it worth it!
Turns out, there were about ten closets STUFFED with clothing from the 40's- 60's, plus bags, shoes, purses and hats galore! So naturally, my seagull eyes and talons were poised to snatch everything away before anyone could get to it and I did. When I hear there was "really old stuff" in the basement, I ran down the stairs to the cabinet where they were and barricaded myself into the corner with old boxes and suitcases so nobody else could get to the closet. I pulled everything out and put it in a big basket and told an envious dealer "sorry, this is my pile; please don't touch it"!! Then, I let her go through the leftovers when I was done. Of course, I shared with my lovely friend that came first.
I came away with some awesome stuff for the shop. Afterwards, I was half starved and coughing from the dust from a rotting black cape my friend shook a bit too vigorously... so I put on a cute outfit and went to go eat Jamaican food in Crown Heights with my man. The place is called The Islands, and it is better than a lot of the food you can get in Jamaica! I ate a giant plate of curried chicken with rice and peas, vegetables, a pineapple soda and plantains for dessert. We were going to go to the Highline park, but were too stuffed so we went home and watched Madmen instead. Really, could it get any better than that?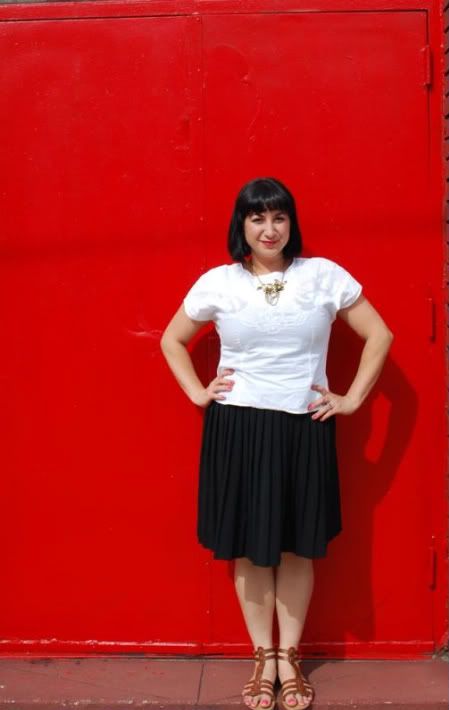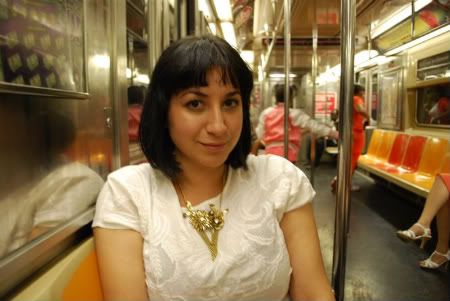 Lace cut-out top: Vintage
Black Rayon skirt: Thrifted
Gladiators: Dolce Vita
Necklace: Forever 21