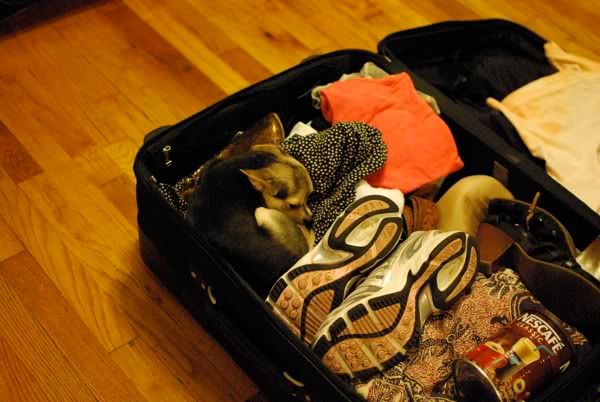 We are all packed up and ready to go home to have our big celebration with our families, including Nero. Don't worry, he's going in his crate, not the big suitcase! He looks very forlorn in this picture because he thinks I am leaving him; he knows when the suitcase comes out it means he's stuck at home with Dad! Little does he know he's in for a big adventure tomorrow!
I didn't realize how much much my packed suitcase says about me until I looked at this picture.... a pair of running shoes next to a can of instant Greek frappe coffee (my mom is addicted and it's my fault), a beat up old leather belt, some tank tops, some killer patent platforms, a Whiting and Davis mesh bag, a long cotton batik print skirt, and a silk polka dot blouse I am also bringing for my mom. Basically, a frantic explosion of coffee-fueled synthetic energy; a California hippie at heart with fancy New York City shoes and bags and a designer dog to match. But really, he was the only one that would fit in my last apartment. He also happens to fit in a cat crate, so he's rather portable as well.
I'll try to post some cool things I've been working on this week, but if I don't get around to it's safe to say wedding madness got in the way. Ciao!