I'm putting some killer, rare pieces into the shop tonight and a good portion of this week's focal pieces are some 1940's stunners. These pieces are getting harder and harder to find, as rayon is a delicate fabric prone to fading, stains, and becoming brittle.
Sometimes I panic when I think about how 40's pieces are disappearing so rapidly; even ten years ago they could still be dug up at estate sales and the occasional thrift shop. When I do find 40's pieces, more often than not they need repairs, soaking, or rebeading. It's always such a risk working on these fabrics as you just never know how they will respond; I would say that I lose about 1 in 5 pieces trying to bring them back to life.
Soaking them will either yield beautiful results and leave you with a bright, stain-free beauty or shrunken, dye-bled, shredding mess. Spot treatment sometimes works, but usually it just makes a big fat hole in the fabric or leaves unsightly water rings. I hold my breath every time I take a 40's rayon piece out of a soaking bath, because you just never know how it's going to look.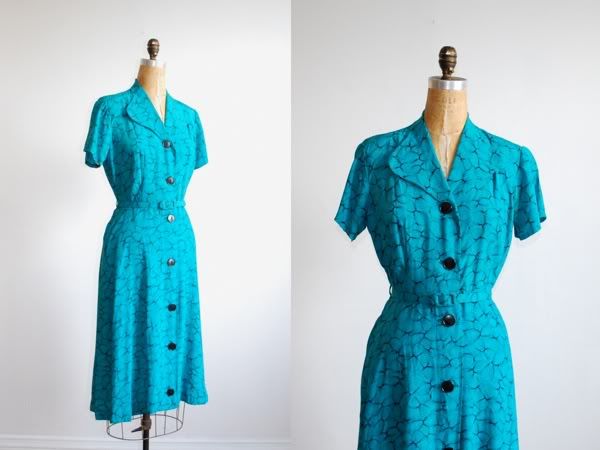 I guess it's my fear of their extinction that's been driving me to obsessively seek out 1940's pieces lately. They are most often a labor of love to restore, but I actually enjoy doing it because this era simply has the best prints, the most interesting cuts, and the most flattering drape. All of these pieces will be in the
shop
by this weekend, contact me via Twitter @greedy_seagull for more info in advance.
xoxo