I haven't done an outfit post in ages, probably due to the fact that I've been hibernating in a parka for months on end now and have been much to lazy to put together an outfit worth looking at. My winter uniform kind of consists of wool dresses, tights and boots and that's about it. Next year, I will be better about the whole cute winter dressing thing but this year I really enjoyed just staying inside and working from home.
Anyhow, I recently had a conversation with a customer about how it's hard to wear high waist jeans when you are short, and in my case curvy. In the back of my head, I am still scarred by my Spanish teacher's perpetual camel toe that was always uncomfortably right at eye level and so have strayed away from them. Today, I found an amazing pair of 70's Jordache jeans while out thrifting and they were so cheap I just had to give them a try. After much fussing and accessory changing, I finally feel like I got the proportions right and came up with a very flattering outfit.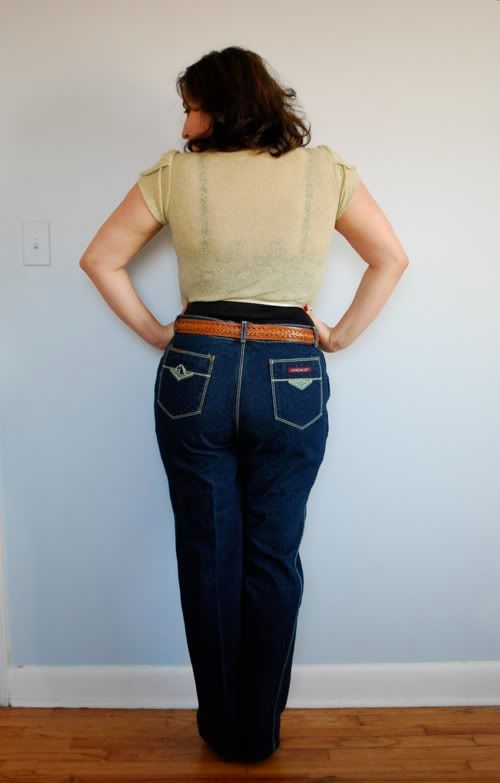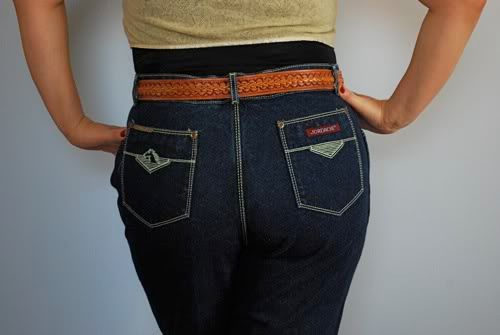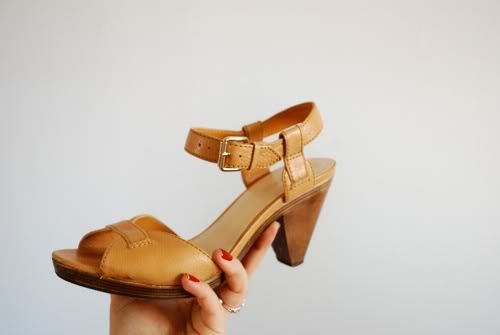 Basically, there are a couple things you need to do to get your proportions correct. The number one rule is heels to elongate the leg. Also, keeping your top cropped to above the waistline keeps things proportional, and an eye catching belt will pull the eye to your natural waist, which is the smallest part of your torso. I have a bodysuit on underneath the top so my underlayer doesn't ride up; it also keep your tummy flat so you don't get any weird bulges over places you don't want them (he he he).
I never thought this would happen, but I think these might be my favorite jeans I ever owned!